Virtual Worlds Passport, the social network exclusively for Virtual Worlds Expo attendees, is now up and running. Passport allows you to find people who share your similar interests. Connect with them now you to make your show experience a more profitable one. Virtual Worlds Passport will stay operational so you can stay in touch with attendees and speakers prior to, during and after the show.
Passport Email Invites
Passport is operated independently of our online registration system. All attendees who registered prior to August 17th should have receive their Virtual Worlds Passport email invite on August 18th. The invite is sent to the email address you used when registering. Check your email filters to find your invite. This email includes a link to register and create your own profile on Virtual Worlds Passport.
Those registering after August 17th should receive their email invite within 24-48 hours after they've completed their registration.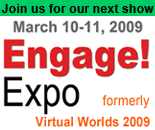 Regular Use of Virtual Worlds Passport
Once you've created your account you can log back in at any time by visiting http://www.VirtualWorldsPassport.com
Check back often as there are new attendees joining all the time.
Passport will continue to operate during and after the conference.
Lost Email Invites
If you deleted your original Passport Invite email or cannot find it please email the Conference Executive Director, Chris Sherman, at for a replacement invite.
Virtual Worlds Passport is a trademark of Show Initiative, LLC